Cholesterol Testing Services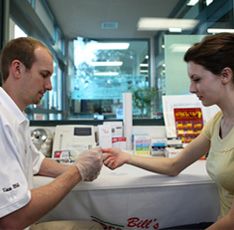 According to reports from the American Heart Association, 98.9 million Americans have total blood cholesterol levels over 200 mg/dL. This statistic is staggering and makes it clear that high cholesterol is a large health concern among our population.
Regular cholesterol testing is important to help you gauge your progress in reaching your lipid goals. At Bill's Prescription Center, we know how important it is to have this test completed quickly and with as little interruption in your day as possible. This is why we offer cholesterol testing that is accurate, quick, affordable, and complete.
Our cholesterol test includes the following: Total Cholesterol (TC), High-Density Lipoproteins (HDL), Low-Density Lipoproteins (LDL), Triglycerides (TG) and Blood Glucose (BG).
The Cholesterol Testing Process
Our cholesterol testing process is quite simple. We offer testing by appointment only, and it takes approximately 15 minutes to complete the entire testing process. Simply call or send us a message to schedule an appointment.
Our staff will also explain the testing process to you and answer any questions you may have. You will be asked to fast the night before the test. This means you should have nothing to eat or drink after 10 pm.
Your Cholesterol Testing Results
The blood sample is taken through a finger prick, very similar to a blood glucose test. The results are ready in only five minutes. Our pharmacist will review these results with you and will advise you if you need to make any lifestyle changes, such as an exercise or diet program. If your cholesterol reading is high, we may suggest a visit to your physician to explore drug therapy options.
One important benefit of our cholesterol testing is the affordable price. Our price for the entire testing process is only $45. This is a service we provide to our patients to help identify potential cholesterol problems.
If you would like more information about cholesterol testing, please give us a call at 813-689-3521. We are here to answer any questions you may have.